"I'm sort of appropriately naive, because if I knew how hard these things would be [to film], I sometimes probably wouldn't do them, you know? But Ridley, I mean… I watch the movie, and I forget that we didn't actually shoot it on Mars. When we'd watch early cuts, occasionally the camera would pan over and catch a bush they hadn't painted out yet and I'd go, 'Wait a minute, that's not Mars?' Even my brain just couldn't figure it out, because boy, Ridley's good at that."
Drew Goddard was the screenwriter of
The Martian
 for
Sir Ridley Scott
to direct. In the past Goddard had scripted episodes of 
Buffy the Vampire Slayer
, 
Angel, Marvel's Daredevil
,
Alias
 and 
Lost
, as well as the feature films 
World War Z,
Cloverfield, 10 Cloverfield Lane
 and 
The Cabin in the Woods
, which he directed.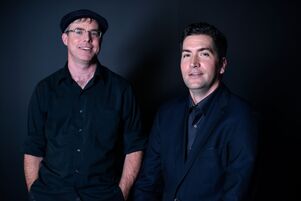 Early Life
Goddard was born in Houston, Texas and was raised in Los Alamos, New Mexico, the son of Colleen Mary (Hogan), a teacher, and Dr. Laurence Woodbury Goddard.
He started his career in the 2000s with Buffy the Vampire Slayer (witch won a Hugo Award for Best Dramatic Presentation) and Angel.
Episodes Written
Buffy the Vampire Slayer
"Selfless"
"Conversations with Dead People" (with Jane Espenson; Joss Whedon and Marti Noxon uncredited)
"Never Leave Me"
"Lies My Parents Told Me" (with David Fury)
"Dirty Girls"
Angel
"Lineage"
"Damage" (with Steven S. DeKnight)
"Why We Fight" (with DeKnight)
"Origin"
"The Girl in Question" (with DeKnight)
Alias
"Welcome to Liberty Village" – January 26, 2005
"Tuesday" – March 30, 2005
"Mockingbird" – October 20, 2005
"There's Only One Sydney Bristow" – April 26, 2006 (100th episode)
"All the Time in the World" – May 22, 2006 (with Jeff Pinkner) (series finale)
Lost
1.16 – "Outlaws" – February 16, 2005
3.02 – "The Glass Ballerina" – October 11, 2006 (with Jeff Pinkner)
3.08 – "Flashes Before Your Eyes" – February 14, 2007 (with Damon Lindelof)
3.13 – "The Man from Tallahassee" – March 21, 2007 (with Pinkner)
3.16 – "One of Us" – April 11, 2007 (with Carlton Cuse)
3.20 – "The Man Behind the Curtain" – May 9, 2007 (with Elizabeth Sarnoff)
4.02 – "Confirmed Dead" – February 7, 2008 (with Brian K. Vaughan)
4.06 – "The Other Woman" – March 6, 2008 (with Christina M. Kim)
4.09 – "The Shape of Things to Come" – April 24, 2008 (with Vaughan)
Marvel's Daredevil
1.01 – "Into the Ring" – April 10, 2015
1.02 – "Cut Man" – April 10, 2015
Year
Title
Credited as
Notes
Writer
Director
Producer
Executive producer
2002–2003
Buffy the Vampire Slayer
Yes
Writer (5 episodes)
2003–2004
Angel
Yes
Writer (5 episodes), executive story editor
2005–2006
Alias
Yes
Yes
Writer (5 episodes), co-producer, producer
2005–2008
Lost
Yes
Yes
Writer (9 episodes), supervising producer, co-executive producer
2015–present
Daredevil
Yes
Yes
Creator; writer (2 episodes)
2016–present
The Good Place
Yes
Yes
Director (1 episode: "Chapter 1: Everything Is Fine")
Movies Written
Year
Title
Credited as
Notes
Writer
Director
Executive producer
2008
Cloverfield
Yes
No
No
2012
The Cabin in the Woods
Yes
Yes
No
Co-written with Joss Whedon
2013
World War Z
Yes
No
No
With Damon Lindelof and Mandatthew Michael Carnahan and J. Michael Straczynski, based on the novel by Max Brooks
2015
The Martian
Yes
No
Yes
Based on the novel by Andy Weir
2016
10 Cloverfield Lane
No
No
Yes
Spiritual successor to Cloverfield
Ad blocker interference detected!
Wikia is a free-to-use site that makes money from advertising. We have a modified experience for viewers using ad blockers

Wikia is not accessible if you've made further modifications. Remove the custom ad blocker rule(s) and the page will load as expected.