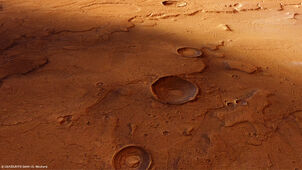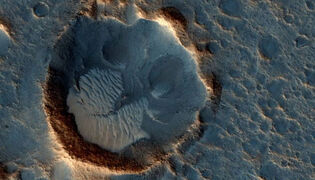 Acidalia Planitia is a plain on Mars. It is located between the Tharsis volcanic province and Arabia Terra to the north of Valles Marineris, centered at 49.8°N 339.3°E. Most of this region is found in the Mare Acidalium quadrangle, but a small part is in the Ismenius Lacus quadrangle. The plain contains the famous Cydonia region at the contact with the heavily cratered highland terrain.
The plain is named after a corresponding albedo feature on a map by Giovanni Schiaparelli, which was in turn named after the mythological fountain of Acidalia. Some places in Acidalia Planitia show cones. Some researchers have suggested that these are mud volcanoes.
Ad blocker interference detected!
Wikia is a free-to-use site that makes money from advertising. We have a modified experience for viewers using ad blockers

Wikia is not accessible if you've made further modifications. Remove the custom ad blocker rule(s) and the page will load as expected.